Why Having A Concrete Sidewalk Is The Way To Go
Looking for a way to improve your property? Or perhaps you're simply looking for a way to increase the property value of your mesmerizing home while also adding a practical function to it? With all that kept in mind, a concrete sidewalk is the one that fits the bill of your objective the most.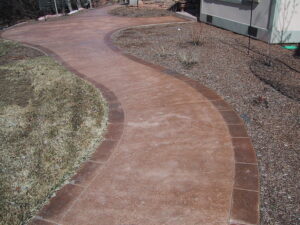 Installing a sidewalk is one thing, after all, it adds both value and function to your property. However, there are several material options in your arsenal to be used for a concrete sidewalk and naturally, all those alternatives offer their very own benefits respectively. With all that said, it is not unusual for anyone to question, "what makes concrete special?", and keep reading to find out the answer to that question.
Benefits A Concrete Sidewalk Have For Your Home 
In order to become more familiar with the material, it is best to look at what these materials have to offer in the first place. As each and every material has its own advantages, doing the proper research on each of them would be a great idea. So, without further ado, let's take a look at the practicality and attractiveness of concrete and what makes it so popular.
Durability
Above all else, the main criteria that any homeowner should be looking for when it comes to installing a sidewalk are the performance and durability of the material. No matter how appealing or cheap the material for sidewalk installation may be, if it cannot even last for a while, then it would all be useless. 
Not only would it make your property look bad, but it would also require unnecessary repair costs as leaving it be might even come to a safety hazard for nearby people. In the end, there's no harm to look for materials that would last for quite a long time even with all the heavy stress and harsh environmental factors. Concrete is widely known for its durability.
Versatility And Design
It is widely known that concrete can be customized in several various ways. Since concrete is installed by pouring, the shape it can take is practically unlimited. Because of this, installment is known to be quite easy, allowing it to be easily installed in whatever way, be it as an exterior of your home, a pool, sidewalk, walkway, patio, or anything else. 
Apart from the versatile shapes, it can be poured in, concrete also has several design options.  With the help of several design methods such as stamping, staining, coloring, and other such methods, the pattern and color combinations that concrete can take are practically limitless. Do keep in mind that a concrete sidewalk would usually be made to have a clean finish that can enhance the look of one's property.
Low Maintenance And Affordability
The cost that comes with the material is always an important factor to consider. In the first place, concrete itself does not require too much maintenance. In fact, it is so low maintenance that compared to other materials, such as natural stones that are effective in increasing home value, is known to be rather costly.
All it takes to maintain a concrete surface is some simple sweeping, brushing, and cleaning. You can wash it however you like so long as not too much pressure is applied, saving money, effort, and time. If you want your concrete to last for a long time, then resealing once or twice a year should be enough to lessen the degradation of the concrete.
The affordability of concrete does not only apply to the maintenance cost, but instead, it applies to concrete as a whole. In the first place, although the affordability of maintenance may not seem like a big deal, the accumulated costs over the years are a huge deal. The cost taken after all those years is something that any homeowner should seriously consider.
Installation
It has been mentioned for a while now but the installation is another factor. As said, the installation is both cheap and easy, however, that is not all. Concrete is also relatively quick to install so you wouldn't have to deal with a long time of construction within your property.
Even though that may be the case, there is still the installation to consider, with a well-installed concrete surface, it will remain in good condition for upward of 30 years, even in harsh climates. So be sure to choose wisely when deciding on a concrete contractor to do the work.
Contact Us
Our concrete contractors are professional experts that work on concrete. It could be difficult to find yourself a trustworthy concrete contractor that also provides great service, however, our concrete contractors are professionals. We have experience and have been dealing with such work for years.