5 Reasons Why Stamped Concrete Is Worth It For Your Lakeland Business
Are you looking for something to make your business place more lively and attractive? The one you're looking for must be stamped concrete. These types of concrete are also the ones that are usually called textured or imprinted concrete, which replicate or imitate many types of stones, such as slate and flagstone, tile, brick, and even wood. 
These stamped concretes offer a wide variety of patterns and colors to choose from, making them popular for beautifying or enhancing the looks of any commercial concrete surface. In addition, not only is the concrete itself an affordable paving option for any structure you need to be built, but it also requires less maintenance compared to other materials. When it comes to investment and ROI getting stamped concrete is a great idea.
Before going too deep into detail, let us first determine what exactly stamped concrete is. When it comes to adding design and aesthetics to concrete, nothing does it better than stamped concrete. Concrete itself also has many great advantages such as its superior durability and weather resistance apart from the aesthetic improvement it provides. 
Is Stamped Concrete Worth The Money?
When it comes to any business, the first thing on their minds should always be about the return on investment and making a profit out of whatever it is they're thinking of doing. The same goes whit these business property renovations, it is important to find out what the cost is and whether it would be a worthy investment. 
In any case, although most homeowners would often not find it much necessary, stamped concrete is actually an excellent choice for homeowners that desires a high-end, wonderful design without spending much money or going over their initial budget. 
Apart from that, these types of concrete prove to be quite useful in imitating the appearance of many luxury paving materials, including natural stone, wood, and brick, and concrete companies have the ability to create these.
If you're really looking for the answer as to if it really is worth the money, this addition with the curb appeal resulting from the stamped concrete adds value to the property, making it a worthy investment that would maximize the return on your investment.
What Are The Advantages Of Stamped Concrete?
Still not sure whether it would be a great idea to get some stamped concrete then by determining the benefits it offers, you can get a better understanding of the material. The installment of stamped concrete is pretty much the same as regular poured concrete, however, the concrete is tinted before it is poured. Since there's not much difference, the same goes with the advantages they provide.
Performance And Durability
Naturally, stamped concrete is still the same as normal concrete. Stamped concrete is able to provide the same high-performance and strong durability that normal concrete has to offer. Unlike using natural stone material, stamped concrete does not sink as much even while going through heavy traffic.
Low Maintenance Cost
Similar to normal concrete, home maintenance can be kept to a minimum by getting some stamped concrete. Even though stamped concrete can imitate the luxurious and pristine looks of a natural stone, it only requires some normal cleaning and resealing once every other year. This comes to be a huge difference compared to natural stones which require a lot more.
Even with some simple sweeping and cleaning, the resealing should be able to keep it from becoming chipped or cracked, and it will also help to preserve its color. Brushing and some light cleaning should be enough to keep dirt and debris out of the concrete surface.
Affordability
Stamped concrete is much less expensive than many other surface material options. Because it doesn't require as much installation labor as natural stone or pavers, the overall cost is less. The concrete itself is also less expensive than many other surface material alternatives.
Appearance
The main benefit stamped concrete provides is most likely to be the different design options it has to offer. Many or most homeowners aim to get great, and aesthetically pleasing properties. Stamped concrete is hard to beat when it comes to pattern and color options, which are virtually unlimited.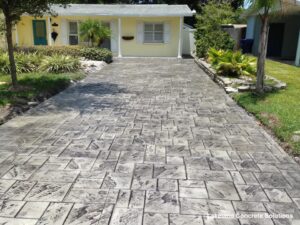 Contact Us
Our Lakeland concrete contractors are professional experts that work on concrete. It could be difficult to find yourself a trustworthy concrete contractor that also provides great service, however, our concrete contractors are professionals. We have experience and have been dealing with such work for years.